JAYZ International is New Zealand's leading importer and distributor of exceptional educational resources and mentally stimulating FUN games, puzzles and toys suitable for the entire family.
JAYZ supplies products to New Zealand schools, educational institutions, teaching colleges, toy & game retailers, museums, zoos, plus many other specialist retailers, concerned about the education and future of New Zealand children!
See our Products page for all categories, view the Best Sellers, read the latest News stories, salvitate over the New Arrivals, from all JAYZ  Valued International Suppliers.
About JAY ESSER . . .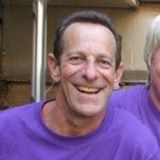 JAY ESSER established JAYZ International in 1990. Jay regularly travels to international gift, toy and book fairs seeking innovative games and puzzles to introduce to New Zealand and was the first to introduce the popular 24 GAME and the successful 24 CHALLENGE Maths Programme to New Zealand in 1990.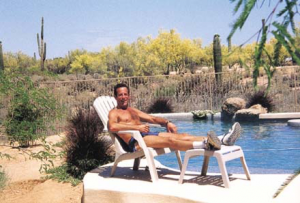 Above: Jay ESSER relaxing in the Arizona desert in May '99, enjoying time with excellent friends, Gary & Judy Cormany, who live in a remote corner of the Arizona desert near Phoenix.  This photo was taken subsequent to a long run in the desert, after a 4 hour horse trek the day previous in the Arizona desert, with Marsha Falco, the inventor of the amazing games SET, Five Crowns and QUIDDLER.
If the SEA was closer to Arizona, Jay would live in Arizona.  Instead, Jay lives close to the sea in Auckland, where he enjoys running along the sea and daily swims, for over eight months of the year.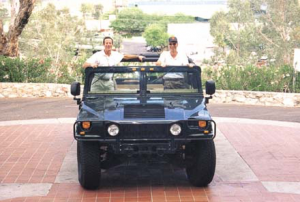 Above: Jay with his flying Instructor, J J McNerney, Delta Air Lines, Chairman – Council 108, Captain Representative, leaving the Wrigley Mansion, Phoenix Arizona, May 1999.   Photo courtesy of Gary Cormany.
JAYZ 24 Challenge Maths Program hits New Zealand Schools . . .
Object of the game: Make the number 24 from the four numbers shown. You can add, subtract, multiply and divide. Use all four numbers on the card, but use each number only once. You do not have to use all four operations. All number nines have a red center, so you can tell a nine from a six. Can you solve the card below?
4 x 3 = 12
12 x 2 = 24
24 ÷ 1 = 24